A while back we discussed creative ways to display your patriotism and countries that obsess over their national flag colors. It is no surprise that the United States was among the most discussed nations in each post. American's are constantly coming up with new ways to display the American flag. A not so new, but interesting phenomenon is American flag tattoos. Let's take a look at a few of the more unique American flag tattoos.
This stitched American flag tattoo resembles its name – a stitched American flag.  It is interesting to note that the flag tattoo only has 11 stars. While that does not accurately depict the actual American flag, it probably has a personal meaning to this particular individual.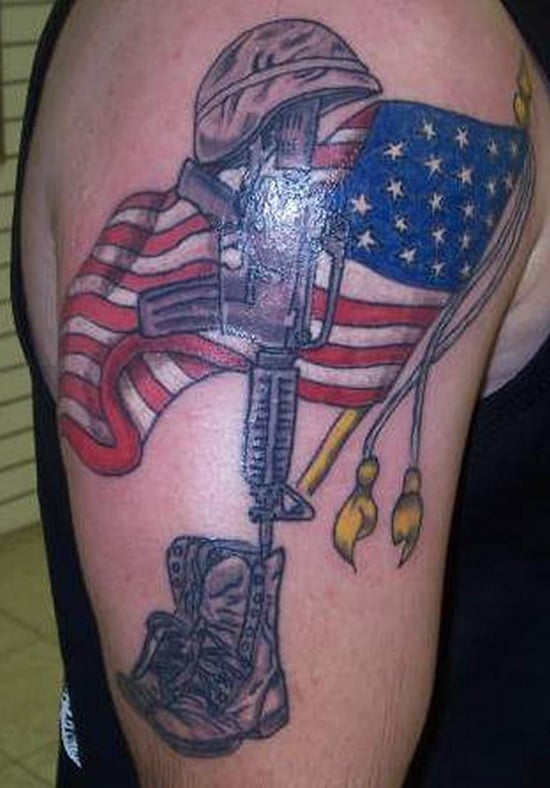 This American flag tattoo is known as "A soldier lost in war". It displays a firearm planted inside a pair of combat boots. The firearm is also attached to an American flag and a military helmet. A very complex, yet patriotic military display.
This American flag tattoo displays a folded flag attached to dog tags. As you know, folding an American flag is one of the military funeral customs. Dog tags are given to members of each military branch as identification. This particular tattoo was designed as a tribute to a fallen friend of the military.
This American flag tattoo shows an American flag ripping through (not literally) the person's skin. It was designed as a way to display the individual's patriotism towards their home country while they live abroad.
This style of tattoo is often referred to as a nationality tattoo. This particular tattoo was designed as a way to show the individual's family heritage (Irish) mixed with their home nation (United States).