Always remember to follow proper flag etiquette when displaying your American flags.
The most standard way to display the American flag is by hanging it on a flag pole. The flag pole allows you place the flag in a convenient location near or around your house. However, flag poles are commonly placed near the front of the house in order to maximize exposure. Click here to learn more about selecting a flag pole.
Below is an example of an Outdoor American flag hung using a flag pole set. This flag pole set is slightly different than the standard flag pole. These flag poles are shorter and are mounted on walls instead of being stuck in the ground. This is a classic way to display the American flag and is very common among U.S. households.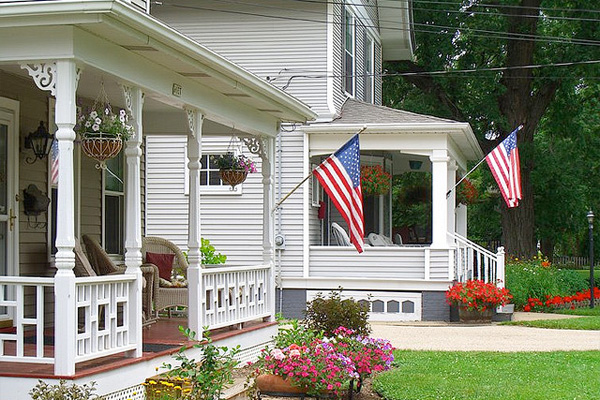 Below is an outdoor American flag hung vertically on the outer wall of a house. Notice how the blue star field is still to the left – that is proper flag etiquette. It is important to remember this when hanging an American flag vertically.
Below are a group of small American stick flags posted along the walkway with bunting hung above the door. Stick flags are a great display outdoor display option and are best used in groups because of their relatively small size. Bunting is best displayed on the side of buildings or along railings/balconies. They are a great way to display your patriotic side without hanging an actual flag.
The next few examples are indoor American flag display options. When hung indoors, the American flag is generally displayed in a high traffic area. The American flag is a majestic decoration piece when displayed correctly. Check out the options below for some ideas.
Memorial Cases for Interment Flags – best displayed on a mantel, fireplace or other high traffic area.