A flag design is separated into two parts, the obverse (front) and the reverse (back). For the most part, flag designs are the same on each side. However, there are a select few flag designs that differ on both sides.
Here are the flags that display a design on the reverse that is different than the design on obverse.
Alabama (1861-1865)
The original flag of Alabama was a flag that had a design that differed on both sides. Alabama began as an independent state, which was reflected on the obverse side of the flag, while the Latin text of Noli Me Tangere (Touch Me Not) was on the reverse side. This flag was only in service for a short period of time, however.
The Oregon state flag is the only state flag that currently features a design that differs on the front and the back. The front features the Seal of Oregon, while the back displays a beaver, the state animal.
San Juan Province
San Juan is a province in the country of Argentina. The province of San Juan borders Chile on the western edge of Argentina. The flag features the San Juan seal on one side, with the sun from the Argentina flag on the reverse.
Stara Zagora
Stara Zagora is a city in the country of Bulgaria. This is a very unique city flag that differs from the Bulgarian national flag – other than using the official colors of red, green and white.
Moldova National Flag
The Moldova national flag features the same design on each side, but the center seal is mirrored on the reverse side.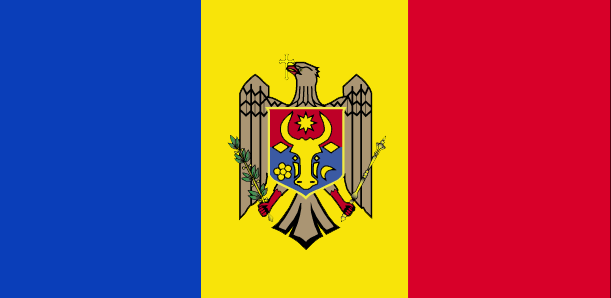 Soviet Union (1923-1991)
The old Soviet Union flag is one of the most famous flags in the world – although it is no longer in existence today. What stands out about the flag is that obverse side of the flag features a hammer and sickle with a star above it.
Paraguay
Unlike some national flags that mirror the image on both sides, the flag of Paraguay features a completely different image on both sides. The seal on the front is the Paraguay coat of arms, and the seal on the back is the seal of the treasury.