The Green Bay Packers are an NFL football team located in Green Bay, Wisconsin. The Packers were established in 1919, which makes them the third oldest franchise in the NFL.
Green Bay, Wisconsin is the smallest town in the United States to host a professional sports team. What's even more unique is that the Packers are the only community owned professional sports team in the United States. The team is owned by over 360,000 shareholders, many of them fans and season ticket holders.
Team History
The Green Bay Packers might be the most storied franchise among all professional sports teams. The team has won 13 league championships, and 4 Super Bowls – those numbers rank 1st and 3rd respectively. Their 30 playoff appearances rank second in NFL history, only behind the New York Giants with 32.
The team was founded by George Whitney Calhoun and Earl "Curly" Lambeau. The team got its name from the Indian Packing Company – a meat packing company associated with Curly Lambeau.
From an outsider's perspective, the Packers fans, and Wisconsinites are known for tailgating, beer, cheese and bratwurst. Their rabid fan base can be heard throughout the game yelling their famous chant – "Go, Pack, Go!" Many of the fans support the team and the state by wearing cheese head hats during the game.
Stadium
From 1925 to 1956 the team played their home games in City Stadium. City Stadium was made entirely of wood and never seated more than 25,000 people. The NFL demanded the Packers to build a new stadium or they would move the team to Milwaukee.
Then in 1957, Lambeau Field was born. The Packers opened their new stadium that season and have played there every season since. Lambeau Field has now become arguably the most historic professional sports venue in the United States. The stadium has undergone numerous renovations to upgrade both the fan and player game day experience. As of the 2014 season, Lambeau Field now has the third highest seating capacity among all NFL stadiums with 80,000 seats.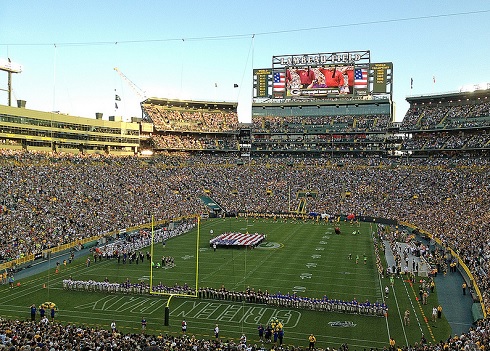 Famous Members of the Green Bay Packers
The Green Bay Packers have had the second most players inducted into the NFL Hall of Fame with 22. Only the Chicago Bears have had more with 27. A few of their most notable Hall of Fame players include:
Paul Hornung
Don Hutson
Earl (Curly) Lambeau
Vince Lombardi (coach)
Ray Nitschke
Bart Starr
Jim Taylor
Reggie White
Brett Favre (future Hall of Famer)
Aaron Rodgers (current player)
Green Bay Packers Merchandise