The Miami Dolphins are an NFL football team that is located in Miami, Florida. The Dolphins were established in 1966 and currently play in the AFC East division with the New England Patriots, Buffalo Bills and New York Jets. The Dolphins have some of the most unique team colors in the league (aqua, orange, white, blue).
Team History
The Miami Dolphins have been an inconsistent NFL team throughout team history – they have had some down years and some incredibly successful years. In fact, the 1972 Miami Dolphins were the only team to finish the season undefeated. That 1972 team finished the season 17-0 after defeating the Washington Redskins in Super Bowl VII. The Dolphins went on to win the Super Bowl again the next season with a record of 15-2. Overall, the Dolphins have reached the playoffs 22 times in their 49 year history, the most recent being in 2008. Since that time they have been a bit of a mess, especially after a bullying scandal in 2013. In 2015, they fired their coach 4 games into the season but look to turn it around in the upcoming years.
Stadium
The Miami Dolphins have played their home games in two stadiums throughout team history. From 1966 to 1986 they played at the Miami Orange Bowl. The Orange Bowl was also home of the Miami Hurricanes of the NCAA. In 1987 they moved to their current home stadium, Sun Life Stadium. Sun Life Stadium has gone through 5 name changes since its inception, but the stadium itself has had minimal renovations or improvements. Sun Life Stadium is a multipurpose stadium that is capable of transforming into a baseball stadium. The stadium has hosted various Super Bowls, World Series', NCAA football bowl games and a Wrestlemania.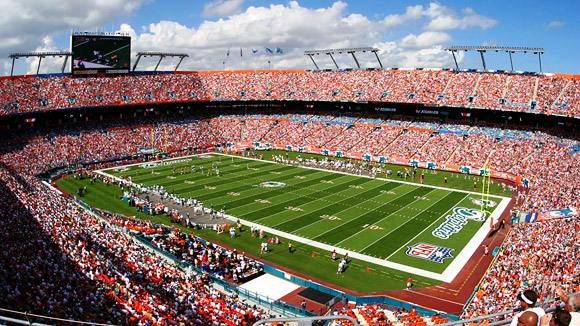 Famous Members of the Miami Dolphins
Dan Marino – Hall of Fame Quarterback
Larry Csonka – former Running Back
Jason Taylor – former Linebacker
Bob Griese – former Linebacker and current sports broadcaster
Zach Thomas – former Linebacker
Paul Warfield – former Wide Receiver
Mark Clayton – former Wide Receiver
Credit: Wikipedia