The New England Patriots are an NFL football team located in Foxborough, Massachusetts. Foxborough is a suburb of nearby Boston, which is the largest city in the state. The team is currently owned by Robert Kraft, who purchased the team in 1994. The team is currently a member of the AFC East division along with the Dolphins, Bills, and Jets. Their official colors are nautical blue, red, new century silver and white.
Team History
The team was formerly known as the Boston Patriots until they renamed to the New England Patriots in 1971. While seeing mild success in the 70s, 80s, and 90s, the team took off in the early 2000s with the hiring of Coach Bill Belichick.
Since the turn of the century, the Patriots have owned their AFC East division – winning it 11 of the last 14 years. They have appeared in 5 Super Bowls – winning 3 of them in 2001, 2003, and 2004. Their most famous game came in the 2007 Super Bowl vs. the New York Giants. Coming into the game, the Patriots were undefeated at 18-0, and the Giants ended their quest for the perfect season – winning 17-14. The Patriots returned to the Super Bowl again in 2011, but once again fell victim to the Giants. They have not returned to the Super Bowl since.
Stadium
Gillette Stadium has become one of the most well known football stadiums in the United States – largely in part because of the Patriots dominance playing in that stadium. The stadium was built in 2002 for roughly $325 million. It has a capacity of just over 68,000 for football, but it also has the capability to transform into a soccer stadium.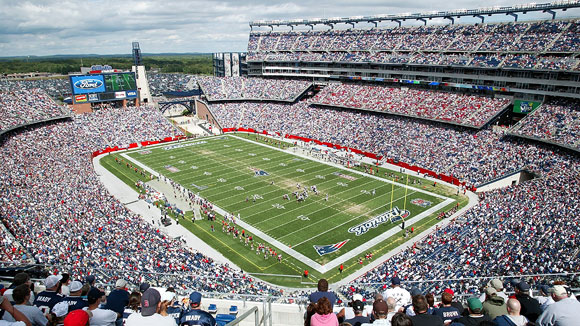 Famous Members of the New England Patriots
It is surprising to see that the Patriots only have 4 members who are currently in the NFL Hall of Fame. A few of their most famous members include:
Tom Brady – current quarterback and future NFL Hall of Famer
Bill Belichick – current coach and future NFL Hall of Famer
Rob Gronkowski – current tight end
Randy Moss – also known for his many seasons with the Minnesota Vikings
Tedy Bruschi – linebacker on numerous Super Bowl teams
Ty Law – cornerback on numerous Super Bowl teams
Robert Kraft (owner)