In the small town of Kirbyville, Missouri, one postal worker starts her day with a salute to the American flag and the Pledge of Allegiance.
Last Friday, Steve Gray of Arkansas was traveling on Missouri 76 when Kirbyville Postal Clerk Laura Topel caught his eye. Topel was standing outside, holding her hand over her heart saluting the U.S. flag, while reciting the Pledge of Allegiance.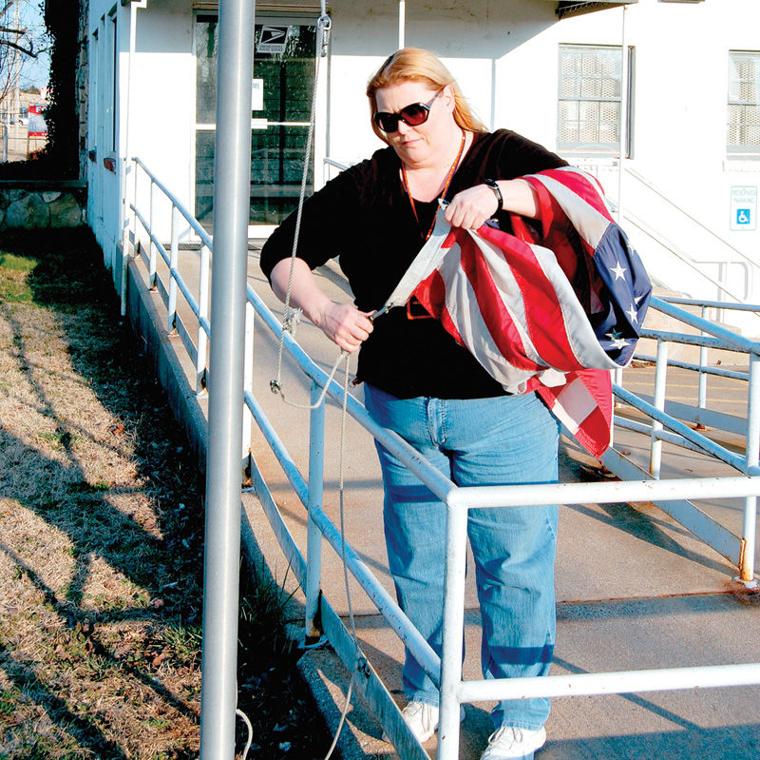 Gray posted a photo of Topel saluting the flag on Facebok with comments supporting her actions.
Topel's actions made such an impression on Gray that he stopped into the post office on his way home for more information on what he had seen.
Topel confirmed to Gray that she does in fact salute the flag and recite the Pledge of Allegiance each morning but has experienced some criticism.
"One person in this town thinks I need to keep my views to myself," Topel said.
Topel also said sometimes neighbors will join here and salute the flag with her.
"Some have stood quietly with me and some have joined with me in the pledge," Topel said. "I never imagined how this would take off."
Danny Strahan, who represents Kirbyville as the Eastern Commissioner on the Taney County Commission, would rather have people saluting the flag than burning it.
"I think that was great that lady had the nerve to get out there and do that, especially when she might get criticized for it in this day and age," Strahan said. "We've got people that hate our country. They live here in this country and accept the things we offer, but they act like they hate our country. So, for somebody to get out there and salute our flag and say the Pledge of Allegiance, I think it's great."
"It's kind of sad in a way that this is so unique that it's caused a stir," Topel said.
She said a few people have called in and said, "Our country is going downhill, you shouldn't salute the flag."
Topel said she doesn't see it that way, "You may not like President Obama and you may not like what Congress is doing, but you still should salute our flag and honor it because it represents all the soldiers who have fought for and died for our freedom."