"Prayers are going up!" These are the words that accompany a photo of The Collin's Groups new 30×50 flag on Britney O'Neil-Bishir's snapchat story Tuesday.
"The prayers are for Officer Koontz, Dr. and Mrs. Dryer, and Mr. and Mrs. Stephenson that were involved in a horrible car accident. Not to mention everything else that is going on around the world." Bishir explains when asked about the words that accompany this photo.
This week has been filled with tragedy starting with the death of Howard County Deputy Carl Koontz in an overnight shooting in Russiaville Sunday morning in CollinsFlags.com's home state of Indiana.
To follow this local injustice, just this morning around 8 a.m., ISIS claimed another strike in Europe.  The bombings occurred in an airport and subway, in Brussels, Belgium, killing at least 30 people and wounding over 230 more.
"Tomorrow is never promised! The flag is absolutely breath taking. It really makes you stop and think about how much we really have to be thankful for, including our freedom." Bishir said. We would certainly agree with that here at Collinsflags.com.
Social Media
Many have turned to social media to show support in this time of despair. Below are just a few of the many posts.
Officer Carl Koontz
Hamilton County FOP 103 Indiana posted a photo from the police procession that began Monday afternoon in Indianapolis to transport Koontz's body back to Howard country. The Facebook post read "All gave some, some gave all. Rest in peace Brother Koontz."
Brussels
Several photos and hashtags have flooded twitter and Instagram since this morning's attack on Brussels. Hashtags range from #PrayforBrussels, #PrayforBelgium and #Prayfortheworld with hundreds of people, celebrity and otherwise paying their respects to this terrible attack.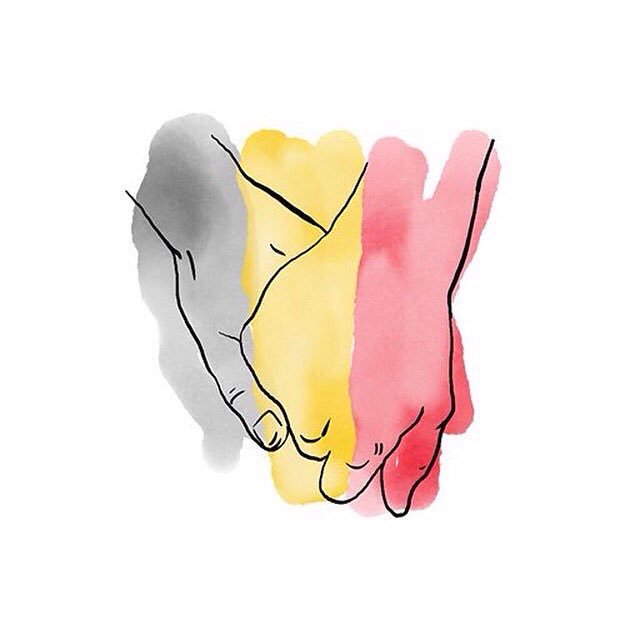 Continue to keep these people on your thoughts and prayers as we will.