Man's best friend is now a veteran's best friend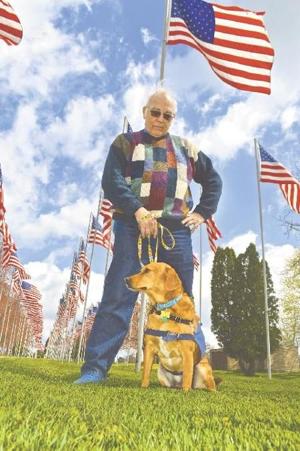 Typically, service dogs are used to help support people who are blind and/or deaf. However, the use of service dogs is now being tested for military members suffering from post traumatic stress disorder (PTSD). The use of service dogs for veterans is currently only being tested in the state of Virginia, and they are looking for additional volunteers.
Veterans who apply for a service dog will then undergo a 3-6 month study before they receive a dog. The study is done in order to determine if the veteran will need a dog for emotional support or a standard service dog. If approved for the program, the veteran will be assigned a dog for 18 months and frequently be asked to share their experiences with the service dog. Before being assigned to a veteran, the service dogs undergo comprehensive training in their particular field for up to six months.
Joel Nicholson is a former U.S. Marine who has suffered from PTSD since he left the military in 2009. He has become depressed, experienced loss of memory and became dependent on alcohol. Prior to his retirement, he had served in Iraq for 16 years.
Joel was selected to test the use of service dogs for emotional support. His service dog is trained to be the veteran's personal assistant, who also doubles as a psychiatrist. Joel claims that his service dog can tell if he's tense, agitated or even in a lousy mood. If the service dog senses any of these things, it will take action and attempt to distract Joel from whatever may be causing him distress harm. The service dog will not stop until it believes that the situation has been defused.