Stained glass art is the use of different colored glasses to create a piece of work, an activity that dates back as far as 4th and 5th century in churches.  We wondered though, are there were any pieces of stained glass flag art out there? This technique has a thousand year history; surely someone has created a beautiful piece of art using their nation's flag as inspiration!
We found four stained glass pieces both in and out of church settings that contained flag art on our search. Have you ever seen any stained glass designs inspired by flags? Comment below and share your findings with us!
Washington Window
Selby Abbey is an Anglican parish church in Selby, North Yorkshire, England. Founded in 1069, this church holds the Washington family coat of arms. Recognize the design? It's said this designed was the Washington family coat of arms (Yes, George Washington!) was the model for both the United States flag and the District of Colombia.
St. Mary's of Battersea
The upstairs of the St. Mary's church of London, England stand an ornate stained glass window portrait of Benedict Arnold. Arnold is a well-known figure in American history for switching back and forth fighting for America and Britain. His stained glass piece represents both sets of flags for this reason.
Paris's Juares Station
Designed by Jacques-Antoine Ducatez in 1989, this stained glass design was set in the Jaures open-air station as a 200th anniversary memorial to the French Revolution. This design is an abstract series of blue, white and red shapes resembling French Flags.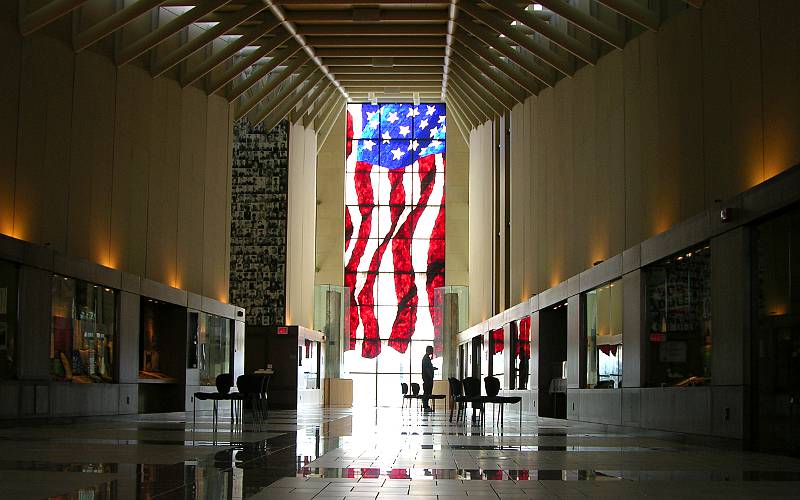 Believed to be the largest stained glass flag art, this 29-foot-tall America flag billows from the top of a floor-to-ceiling window in the University of Kansas's, Robert J. Dole Institute of Politics.