The Brazilian flag was officially adopted on November 19, 1889. The Brazilian flag was designed in a clean, recognizable way despite the use of numerous design elements. The flag features a green background with a yellow rhombus at the center of the flag. Inside the yellow rhombus is a blue sphere that resembles a starry nighttime sky. Inside the blue sphere is a curved white band that displays the national motto – "Order and Progress".
The Brazilian flag also made our list of national flags with stars. Similar to how the American flag uses stars; the 27 stars on the Brazilian flag represent the country's 26 states and 1 federal district.
About Brazil:
Brazil is the largest country in South America and it is the fifth largest country in the world based on area and total population. Brazil is also the largest Portuguese speaking country in the world, despite not being located on the same continent as Portugal. Nearly half of the country's landscape is a rainforest that is home to some of the most unique wildlife and natural resources in the world. Brazil also has the seventh largest economy based on GDP. Their economy has been the largest producer of coffee for the last century, but has emerged as a power nation in many other economical areas.
Landmarks & Historical Places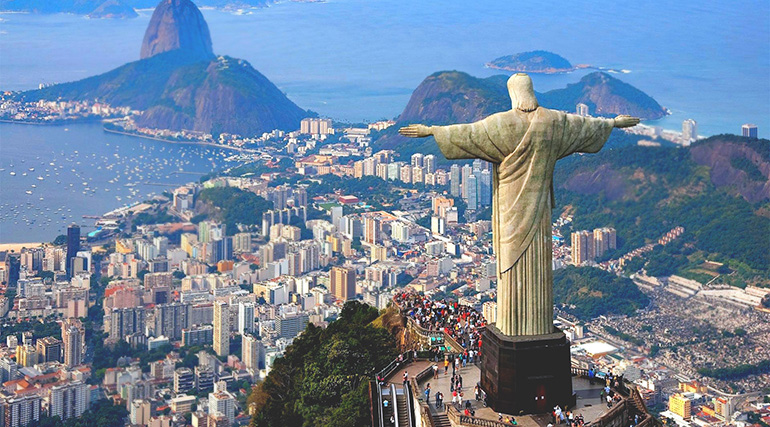 The Christ the Redeemer Statue is the most recognizable figure in Brazil. The famous religious statue of Jesus Christ is located in Rio de Janeiro, Brazil's largest city. The statue sits at the top of a mountain overlooking the city.
The Amazon River is the second longest river in the world, but it is the largest in terms of volume. Much of the land surrounding the river is known as the Amazon Rainforest.
Iguazu Falls is one of the natural wonders of the world. This gigantic waterfall system sits on the border of Brazil and Argentina.
Credit: Wikipedia