Earlier this month, Chief Minister Shri K Chandrasekhar Roa of Telangana ordered a 303 foot flagpole to be built in time for his state's second anniversary. Source
If approved, the Telangana flagpole would take the title of India's tallest flagpole over the current 293 ft pole in Ranchi, India.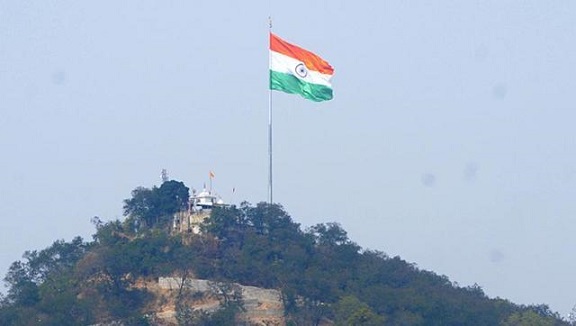 Draw Backs
Being built along the Hussian Sagar Lake and its proximity to the Begumpet airport, the Telangana pole would need clearance from the Airports Authority of India (AAI).
With local AAI only permitted to allow structures up to 164 ft tall within the state and the permissible height estimated at around only 272 ft, issues arose quickly. Anything over 164 ft would need to be sent to AAI headquarters in New Delhi, which wasn't ideal as the committee would then have 30 days from the time of the report to visit the issue.
This could have taken weeks to evaluate as there are three sections to each report. However, according to Time of India the chief minister reportedly asked the state government's representatives in New Delhi to ensure the committee visit the site soon and give its report quickly. Source
Outcome
On Thursday, Chief Minister K Chandrasekhar Rao raised the 72 by 108 ft national flag of India onto a new 291 ft. flagpole to honor the state's second formation day. Source
With this outcome we can only assume the AAI rejected the proposed 303 ft pole. For now, Telangana's flag will stand second to the tallest flagpole in Ranchi. However, it is no less splendid and beautiful than its 2 ft taller sister.
How do you feel about the lowered height of the pole? Do you think they could have made the 303 ft pole happen if they hadn't rushed? Keep in mind they still hold the world record for largest human flag! Let us know in the comments.
To learn more about India, click here, and grab your own flag of India today at Collinsflags.com.